Dec 12,2018
News & Updates
News & Updates
Another Successful Visit to Canadian Premier Yearling Sale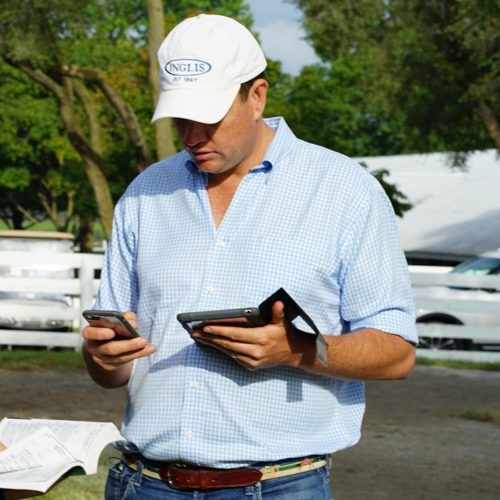 Last year, I jumped at the chance to attend the Canadian Premier Yearling Sale in Toronto. I was invited by great friends and clients Frank Mermenstein of Discovery Racing and Elliot Kohn of Goldie Stables to buy a yearling or two with the goal of winning Canada's premier race, the Queen's Plate.
We purchased two colts that first year, both by leading Ontario sire Milwaukee Brew. There was an added bonus of both horses being Ontario-bred, making them eligible for the great bonus scheme at Woodbine Racetrack and the restricted stakes race schedule.
I returned again this year, with the same goal in mind.
The sale itself is on the smaller side, which gives me the chance to look at every horse entered. This being the case I don't need to spend the usual prep work before arriving on the grounds. After doing my first inspections, I rely on Frank's input to help me fine tune my list as he is a very astute form student and knows the Canadian pedigrees very well, so his insight is invaluable.
One thing that makes the sale easier than others as well is that we have a very specific type of horse we are looking for. The goal is to win the Queen's Plate, so we can knock off any horse that do not look like they will be able to run a mile and a quarter as three-year-olds.
A bonus of coming to this sale for two years now is that I'm more familiar with the Canadian pedigrees that dominate the catalogue. Sires such as Giant Gizmo, Silent Name, and Old Forester are good local sires I previously was not familiar with but now catch my attention.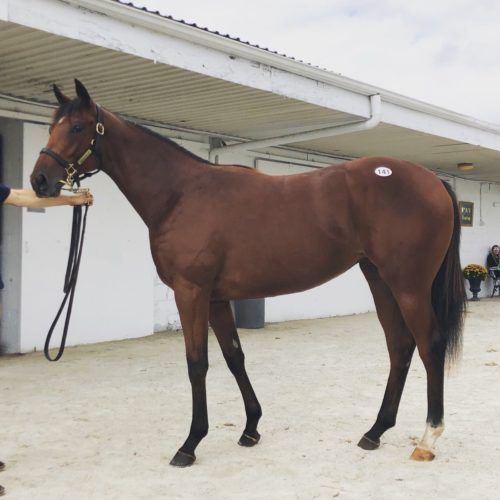 I had five horses left on our list after final inspections, but two of those failed the vet inspections, which cut our list down to three. A filly by Kentucky-based sire Majesticperfection was the first one in the ring and my top pick of the sale. We were able to bid strongly and purchase her for CAN$75,000, which was in the wheelhouse of what I expected to pay. Fillies have a strong record in the Queen's Plate this decade with the last two editions of the race being won by fillies and four winning the race since 2010 so that did not hurt our confidence when bidding on her for that purpose either.
She was bred by proven nursery Tall Oaks Farm, who bred three champions in 2017. Physically I thought she was a clear standout. The first thing that caught my eye about her was her deep sloping shoulder, massive girth, and developed chest. She had a lovely hind leg with good, strong hocks. I love horses, particularly fillies, to have a good head and she fit that bill as well with a kind eye, large nostrils and big ears.
Majesticperfection has turned into a good filly sire with Gr. 1 Kentucky Oaks winner Lovely Maria and stakes winners like Chanteline, Pretty Perfection, Theperfectvow, and Perfect Prediction. Add in this filly's dam Kid Collection being a Lemon Drop Kid half-sister to a stakes winner and her third dam being multiple Grade 1 winner Memories of Silver. Overall, she fit the bill of what I want in a horse particularly to go two turns.
Off the back of the sale, she has joined Richard Hogan to get broken-in. She will link with last year's two purchases in trainer Julia Carey's string at Woodbine where she will start her racing career with the goal of heading to the 2020 Queen's Plate.
For people who are racing in Canada, this sale is a must as you can buy horses to race in the restricted programs at Woodbine. For those looking for a nice horse on a budget, I have found it to be very inexpensive to buy a nice horse in the $20,000 to $40,000 range, something that is hard to find at many other sales.
I am thrilled with the purchases I have made here over the past two years and look forward to returning once again in 2019.