Dec 12,2018
News & Updates
News & Updates
Boomer Bloodstock an Operation on the Rise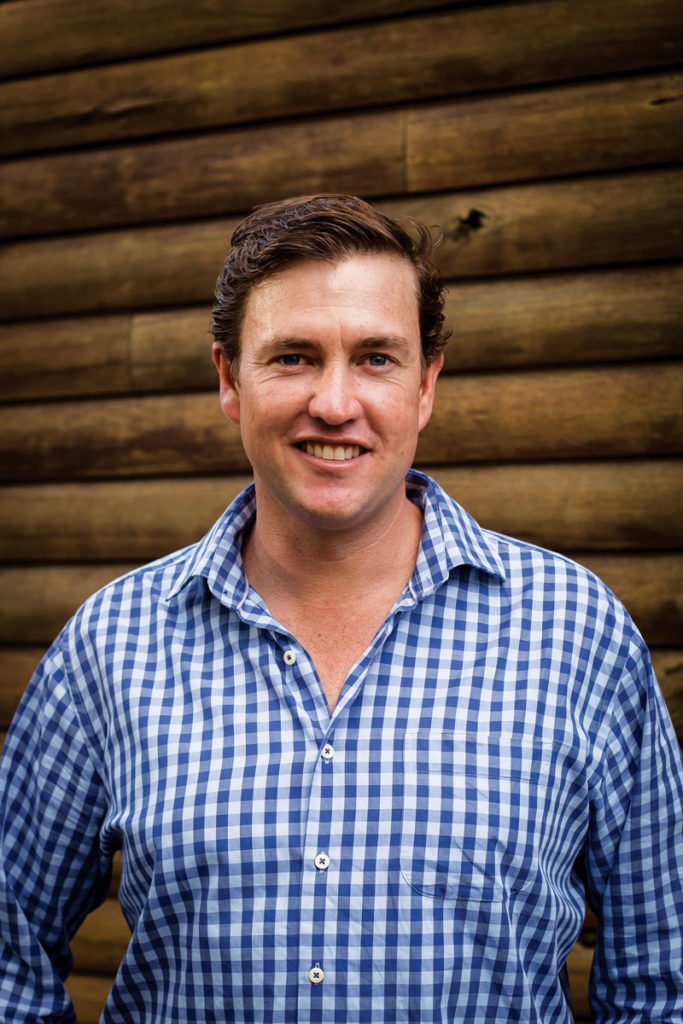 The thoroughbred industry can be very tough on participants. In fact high-flying entrepreneur Robert Holmes a'Court, who owned numerous notables including 1984 Melbourne Cup winner Black Night, once said, "If you survive in racing you will survive in anything."
Yet, quite remarkably, Boomer Bloodstock, operated by Craig Rounsefell with the support of his American-born wife McCall, has become an influential player in less than a decade. After the company enjoyed initial success on the west coast of the United States Boomer Bloodstock has become a significant force right across Australia.
"From the time I started the business we have had a foot in both countries with our clients being predominantly in Australia and North America," said Craig, who was appointed North American representative for the Inglis sales company in 2016.
"We have some very good clients in America, but recently we have been placing a larger focus on Australia and we are spending the majority of our time here. McCall and I have decided to make Australia our home and to raise our family here, mostly because the industry here is in such a healthy position.
"The Everest for instance is a good concept that I believe will bring new people into racing. It created a lot of promotion in the mainstream media around the world and reached people who wouldn't normally be reached by the racing media and this will lead to new participants being introduced to the sport, which is greatly needed, as this is where the new owners will come from in the years ahead.
"With initiatives like this I think the outlook for both the racing and breeding industries in Australia is very positive. Overall the government in Australia gets behind racing and given our close proximity to the rising Asian market I think the Australian thoroughbred is well placed going forward and that is basically why we have elected to concentrate the majority of our efforts in the future in Australia."
As part of the new approach Craig and McCall have purchased a home on the Gold Coast and are in the process of establishing a permanent office there. Being a loyal Queenslander, a particularly strong client base has already been put together in the Sunshine State. Foremost among those clients is Jan Clark, who owns the boutique Daandine Stud, an arm of Daandine Pastoral Company, which was founded in the 1940s by her father James Clark and Peter Tait, an ancestor of the famed New South Wales racing family.
Craig's opening purchase for the stud, which is at Goomburra near Warwick on the Darling Downs, was the Fusaichi Pegasus (USA) mare Kitalpha, who was secured for $82,500 at the 2012 Magic Millions National Broodmare Sale. When mated with the Daandine-bred Written Tycoon, the boom sire standing at Woodside Park, the now deceased Kitalpha produced the 2016 ATC Golden Slipper Stakes-Gr.1 winner Capitalist, who these days graces Newgate Farm.
"I have been working closely with Jan for several years and it was a dream come true for her to see one of her home-bred horses win the Golden Slipper," Craig said. "Since she began upgrading her mares the stud has been making giant strides and I have no doubt this will continue."
Other well known Boomer Bloodstock clients include Yarraman Park, in New South Wales, Musk Creek in Victoria, and leading Western Australian trainer Lindsey Smith. "We have a great group of loyal clientele around us and we are only looking to grow slowly, but at the same time we aim to look after the clients we already have. With our client base well established we had what I consider to be a break-out year in 2017," Craig said.
"We bought a total of 39 yearlings at the sales, including the colt by Dundeel from Miss Finland for $900,000 and a colt by I Am Invincible for $550,000. It was a huge year and we are looking forward to going on from there."
With everything ticking along nicely Craig says that the inspiration for choosing a life in the thoroughbred industry came from having an extended family history in racing. "There are racing interests on both my father and my mother's side going back a long way," he said. His father John has an insurance business and part of that involves being the Queensland agent for Logans.
"Dad was very good friends with the late Bob Logan and that association has gone on through the years with Richard Logan. Also on my father's side of the family, my great grandfather and great-great grandfather, the Roghans, were a trainer and jockey combination. They won the 1899 Queensland Derby with a horse named Master Bernie, who went on to win the St Leger the following year. My mother Diane grew up in central Queensland on a large property and her father, who worked the land, rode as an amateur jockey before turning to training."
It was while a student at St Paul's Anglican School in the Brisbane suburb of Bald Hills that Craig began developing his expertise by spending much of his spare time on the Misty Downs property Terry Catip owns at Warwick. "Terry was a foreman for the legendary T.J. Smith for about 10 years and he taught me a lot. It is an association that has continued over the years and Terry still does most of my spelling and quite a bit of other work with the horses I manage."
While the racing industry always had first call on Craig during his time at St Paul's he showed considerable skill with the bat and ball. That ability earned him selection in two schoolboy cricket teams, which toured England and presented him with the opportunity to develop his own connections.
"I went to England in 1997 and 2000 and on the second of those trips I met some people who opened the way for me to spend 12 months as a sports coach at The Duke of York's Royal Military School in Dover," he said. "I did that when I took a gap year between leaving St Paul's and undertaking a Bachelor of Commerce Degree at the University of Queensland.
"During my year at the Royal Military School I went to Ireland during my holidays and just by chance met champion trainer John Oxx. That was in February 2001 and during all of my holidays after that I worked at his Currabeg stable on the Curragh. John has won races such as the English Derby and Irish Derby, the Arc de Triomphe and Breeders' Cup races, so it was a great experience to work with such a talented trainer and an absolute gentleman."
Beginning his Bachelor of Commerce degree in 2001 he again used his holidays from university to gather further experience on the practical side of the horse industry with the First Lady of Australian Racing Gai Waterhouse. "When I came back from the UK after my gap year I met Gai at the Magic Millions yearling sale," Craig said. "I got chatting to with her and in the first year of my holidays from university, I travelled down to Sydney to work in the stables at Tulloch Lodge.
"At that stage Henry Field, who has gone on to establish Newgate Farm, was going around the sales with Gai, learning by working as part of her team. Then Henry was selected to undertake the Darley Flying Start course and I was given the opportunity to take the role he vacated.
"It was quite a junior role with Gai but I was able to work alongside her as well as the esteemed judge George Smith, who was picking the horses, and Steven Brem, who was the stable's racing manager. It was a brilliant experience working as part of this superb team over a three-year period. Of course that was the era of Dance Hero and Desert War and I also got to travel with horses such as Winning Belle, who won a Queensland Guineas, was third in the Oaks and fourth in the Derby."
After graduating from university at the end of 2004 Craig went back to Sydney to work full-time for Gai. In addition to attending the sales his duties involved being at track work of a morning and working in the office in the afternoon. His employment at Tulloch Lodge lasted through until August 2005 when he was selected for the Darley Flying Start program, which has been a stepping stone for so many of the industry's emerging stars.
"We began the course in Ireland, then went on to England, America and Japan," he said. "After Japan it was back to Australia, where I worked with Inglis and we then went to Dubai where I had a placement with Mike de Kock. A highlight while I was there was Mike preparing Asiatic Boy to win the UAE Three Year-Old Triple Crown."
"The final section of the course was back in Ireland where I spent time working with renowned bloodstock agent John Tyrell at the BBA Ireland. I graduated in first place, which I am very proud of." On finishing the Flying Star program in July 2007 Craig began an internship with the Keeneland Association in Kentucky, which covered the September yearling sale, October race meet, November breeding stock sale and the January mixed sale.
He also participated in the selection process of entries for the two year-old breeze-up sale. Deciding to remain in the United States on completing the internship, Craig went right across the continent to join up with the Hall of Fame trainer Neil Drysdale, as an assistant for the 2008 racing season at Hollywood Park, Santa Anita and Del Mar.
"I had met Neil in Dubai and he offered me a position," he said. "I was there for 12 months and it was another great experience."It was at Santa Anita in February 2008 that he met McCall, whose family is steeped in the finest traditions of racing in North America. Her grandfather Earl Mitchell was a prominent Californian trainer, whose clientele included the famous television couple of the 50s and 60s Lucille Ball and Desi Arnaz.
As well as working alongside her late father Mike Mitchell, who with nearly 3000 winners was an all-time great, McCall was privileged to spend time with the likes of Charlie Whittingham and Bobby Frankel. With a passion for the arts McCall, in her time away from the horses, studied for an associate degree at the Fashion Institute of Design and Merchandising in Los Angeles, which she completed in 2005.
On ending his term with Neil Drysdale in November 2008 Craig and McCall became engaged and returned to Brisbane the following month and launched Boomer Bloodstock. This led through to their marriage at weight-loss guru Jenny Craig's 80 ha thoroughbred farm and training facility in Rancho Santa Fe, near Del Mar racecourse, in August 2009. The Jenny Craig property was later sold to Microsoft founder Bill Gates for $US18m.
Craig and McCall, who have a one-year-old son named Weston, subsequently spent time travelling between Los Angeles and Brisbane in the early years of Boomer Bloodstock. Capitalising on her knowledge of the thoroughbred world McCall became an administrative assistant in the company but times were tough.
"It was just after the financial crisis when I founded the company," Craig said. "I was young and gung-ho so I went for it. I just grafted along for about five years, but I was lucky my father-in-law supported me in America and we were fortunate that we bought a horse quite early on called Obviously, who raced for five straight seasons in California, and another one named Dhaamer. Both Obviously, who is by the Coolmore shuttle stallion Choisir, and Dhaamer, by Dubai Destination (USA), were bought at the Tattersalls, Newmarket, October sale in 2011.
Raced by Boomer Bloodstock clients Anthony Fanticola and Joe Scardino, those purchases became very important contributors in the build-up of the agency's reputation. After winning races in England Dhaamer, who was bought for 30,000 guineas, was transferred to Mike Mitchell's stable and brought up the fledgling company's first Group success in the Sunset Handicap-Gr.3 at Hollywood Park in July 2012 when ridden by champion US jockey Julien Leparoux, who is married to McCall's sister Shea.
In June the next year Obviously, a 130,000 guineas buy also put into his father-in-law's care, registered Boomer Bloodstock's first win at the elite level, as a buyer, in taking the Shoemaker Mile Stakes-Gr.1 also at Hollywood Park. Following the win Mike, who was battling a brain tumour, decided to retire and handed over the reins to his long time assistant Philip D'Amato, who prepared Obviously to again win the Shoemaker Mile in 2014.
Sadly Mike passed away in April 2015 but Obviously continued on in D'Amato's care. A resilient performer he capped his career by winning the Breeders' Cup Turf Sprint-Gr.1 at Santa Anita on November 5, 2016. Fittingly, Anthony Fanticola gave special mention to Craig and McCall, who attended the meeting, at the presentation of the Breeders' Cup trophies.
On retirement Obviously had raced 29 times for 13 wins, nine in Group races, and 10 placings for earnings the equivalent of $A2.6m.
Just three weeks after the Breeders' Cup victory of Obviously, Scales of Justice completed what Craig describes as "an amazing Gr.1 double" in capturing the WATC Railway Stakes-Gr.1 at Ascot for the Lindsey Smith stable. By Not a Single Doubt from the Umatilla (NZ) mare Beymatilla, he had been purchased by Boomer Bloodstock for $180,000 at the 2014 Inglis Melbourne Premier yearling sale in 2014.
"Craig targeted Scales of Justice and then held out Melbourne trainer Robbie Laing in a bidding duel for the colt," Smith said after the race. "It was a great result."
With the economy steadily improving around the globe, combined with those successes, it gave further momentum to Boomer Bloodstock's upward spiral. This has resulted in Craig being in a position to take-up shares in some of the horses he purchases.
"Things really started moving along for us a few years ago, after we had struggled earlier on," Craig said.
"I mostly buy for clients, but sometimes there are bits and pieces left over. A few years ago I bought a filly named Lady Sniper for $20,000 and had a hard time selling her, so I kept a share."
In keeping with Boomer Bloodstock's rising fortunes that worked out brilliantly. After winning the ATC Inglis Sprint in December 2015 Lady Sniper, who is by Snippetson from the Arena mare Lady Titus, went on to capture the Gosford RC Gosford Guineas-LR four months later. Retired with earnings of more than $320,000, the story had another even happier chapter when she was sold to Newgate Farm at last year's Inglis Broodmare Sale for $350,000.
"Occasionally the ones, for whatever reason, you have a hard time selling work out well," Craig said, citing another recent example in Epic Grey. He is by Wicked Style (USA) from the Break The Vault mare Embellish and was secured for $67,500 at the Magic Millions QTIS sale in 2016 and was sent to Lindsey Smith, recording three wins, four seconds and a third from his first eight starts.
"During the past few years I've struck up a really good relationship in the west with Lindsay," Craig said.
"He is an extremely good trainer and at the first sale we worked together he bought Scales of Justice. Everything has gone along smoothly since and that's the objective I have for all our clients."
There could be more exciting times ahead for Craig too with Danzie, who is by Fastnet Rock from the Zabeel mare Zarzuela (NZ). Purchased by Boomer Bloodstock for $725,000 at the 2015 Inglis Australian Easter Yearling Sale Danzie, after being taken along quietly by Bjorn Baker, is now showing exceptional ability with two wins and two seconds in four starts to mid-January and can be expected to become a force as this year unfolds.