How to find a successful nick
Throughout my career I have always been taught to pay attention to nicks, steering towards those that have proven to be successful and avoiding those that have not.
The premise of nicking refers to sire and broodmare sire combinations – how certain stallion lines and pedigrees cross over with other stallion lines and pedigrees. You are looking for genetics that complement others and ultimately result in success on the racetrack, while also noting which ones produce slow horses.
At the very core, you're looking to see if there is data on the stallion himself and if he is proven, and in the broodmare sire and the line that she is from.
Younger stallions won't have any data, so you need to take a more removed view where you're looking at a stallion's parents and how their different genetics match with other lines.
Our most successful stallion in Australia, Danehill, has proven unsuccessful from a close up sireline to sireline view – except with some stallions. A stallion like Choisir has a fantastic success rate when matched up closely with Danehill in his pedigree.
With certain stallions you have options where they have superior females in their pedigrees. It's proving to be successful matching those lines together and bringing out close relations where this very strong female in the pedigree is reproducing. You hope that the strengths of that come to the fore in the horse.
While you have the genetic makeup of a horse, you also have the physicality of a horse where certain stallions throw a certain type – whether it be big, small, heavy or light.
A lot of the time the positive nicks work not only because of the genetic makeup of the family's match but also because the physical type of those two stallions complement each other. One stallion might even compensate for the other stallion's weakness.
I always have nicks and crosses in the front of mind, keeping up to date with sires that are getting older or developing, what successful patterns are emerging and with what lines. In particular I follow what other stallions they work well with and what they don't work well with.
You really need to make an educated assumption early in a stallion's career with the limited data you have, but as time goes on a good stallion become stronger because people learn how to breed on a positive nick.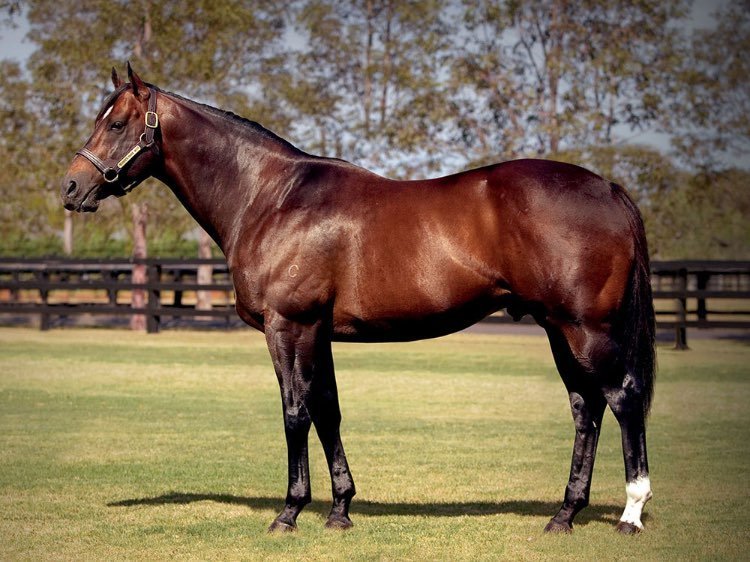 Redoute's Choice
The below table lists the sire strake with broodmare sires in Australia to help you understand the potential for success with a cross.
| | | | | | |
| --- | --- | --- | --- | --- | --- |
| SIRE | BMSire | Rnrs | BTW | Nick %BTW | Sire %BTW |
| Fastnet Rock | Galileo | 28 | 6 | 21.4 | 8.8 |
| Pierro | Redoute's Choice | 31 | 6 | 19.4 | 6.9 |
| Not A Single Doubt | More Than Ready | 18 | 5 | 27.8 | 8.4 |
| Exceed And Excel | Elusive Quality | 19 | 5 | 26.3 | 10.1 |
| Choisir | Encosta de Lago | 27 | 5 | 18.5 | 5.7 |
| Street Cry | Danehill | 28 | 5 | 17.9 | 9 |
| Street Cry | Redoute's Choice | 32 | 5 | 15.6 | 9 |
| Medaglia d'Oro | Lonhro | 12 | 4 | 33.3 | 6.8 |
| Redoute's Choice | Hussonet | 14 | 4 | 28.6 | 10.8 |
| Fastnet Rock | Stravinsky | 27 | 4 | 14.8 | 8.8 |
| Lonhro | Commands | 32 | 4 | 12.5 | 8 |
| High Chaparral | Zabeel | 33 | 4 | 12.1 | 7.9 |
| Lonhro | Redoute's Choice | 34 | 4 | 11.8 | 8 |
| Sebring | Redoute's Choice | 36 | 4 | 11.1 | 6.4 |
| Sebring | Encosta de Lago | 43 | 4 | 9.3 | 6.4 |
| Redoute's Choice | Encosta de Lago | 46 | 4 | 8.7 | 10.8 |
| High Chaparral | Danehill | 52 | 4 | 7.7 | 7.9 |
| Commands | Canny Lad | 10 | 3 | 30 | 7.2 |
| Savabeel | Montjeu | 10 | 3 | 30 | 7.8 |
| Snitzel | Elusive Quality | 10 | 3 | 30 | 8.9 |
| High Chaparral | Fastnet Rock | 12 | 3 | 25 | 7.9 |
| Not A Single Doubt | Hussonet | 12 | 3 | 25 | 8.4 |
| Not A Single Doubt | Zabeel | 14 | 3 | 21.4 | 8.4 |
| Redoute's Choice | More Than Ready | 14 | 3 | 21.4 | 10.8 |
| Sebring | Anabaa | 16 | 3 | 18.8 | 6.4 |
| Snitzel | Red Ransom | 17 | 3 | 17.6 | 8.9 |
| So You Think | Redoute's Choice | 20 | 3 | 15 | 3.1 |
| Sebring | Danehill | 22 | 3 | 13.6 | 6.4 |
| Testa Rossa | Encosta de Lago | 22 | 3 | 13.6 | 5.4 |
| Not A Single Doubt | Encosta de Lago | 24 | 3 | 12.5 | 8.4 |
| Snitzel | Zabeel | 27 | 3 | 11.1 | 8.9 |
| More Than Ready | Zabeel | 28 | 3 | 10.7 | 7.6 |
| Charge Forward | Redoute's Choice | 29 | 3 | 10.3 | 4.5 |
| Exceed And Excel | Encosta de Lago | 29 | 3 | 10.3 | 10.1 |
| High Chaparral | Encosta de Lago | 31 | 3 | 9.7 | 7.9 |
| More Than Ready | Flying Spur | 47 | 3 | 6.4 | 7.6 |
| More Than Ready | Danehill | 67 | 3 | 4.5 | 7.6 |
(Crops 2010-2016, 10 or more runners and 2 or more BTW – table provided by TDN AusNZ)