Buying American mares: A step-by-step guide

Step 1: find local knowledge
Partnering with a reputable bloodstock agent with extensive knowledge of both the Australian and American market is the first port of call when looking to buy bloodstock from America.
Research, sound local knowledge and a good industry network, are critical ingredients when investing in bloodstock overseas.
My first steps with you will be to learn your bloodstock strategy, to determine your ideal level of investment, the type of mare best suited to achieve your goals and then guide you on local knowledge such as form lines, sirelines, pedigrees and the most reputable vendors to consider. We will also work closely with a trusted veterinarian.
Click to read: Why should I engage a bloodstock agent for overseas purchases?
Step 2: pick your market
The public auction sale process for thoroughbreds in America is similar to the Australian model. Bloodstock listed in sale catalogues are graded by "book" levels and horses are available on site for pre-sale inspections and vetting.
Just like Australia, there are sales that cater for every price point.
Fasig-Tipton's Fall Saratoga Sale in October is a top destination for broodmares and foals. The one-day sale catalogues up to 300 lots.
The Fasig Tipton November Sale goes for one evening, with around 300 high end mares and weanlings selling for an average of between $500,000 and $600,000. This sale could be likened to a larger version of the Inglis Chairman's Sale.
Keeneland host two large breeding stock sales a year. The January sale (which takes place at a similar time to Magic Millions Gold Coast Yearling Sale) catalogues up to 1600 lots, while the November Sale is the largest breeding stock sale in the world.
The Keeneland November Sale typically begins the day after the Fasig Tipton November Sale and is spread over a marathon ten days. Over that period, around 4000 mares and weanlings are sold across ten sessions or "books". The average price of bloodstock in each book will decrease as the period progresses.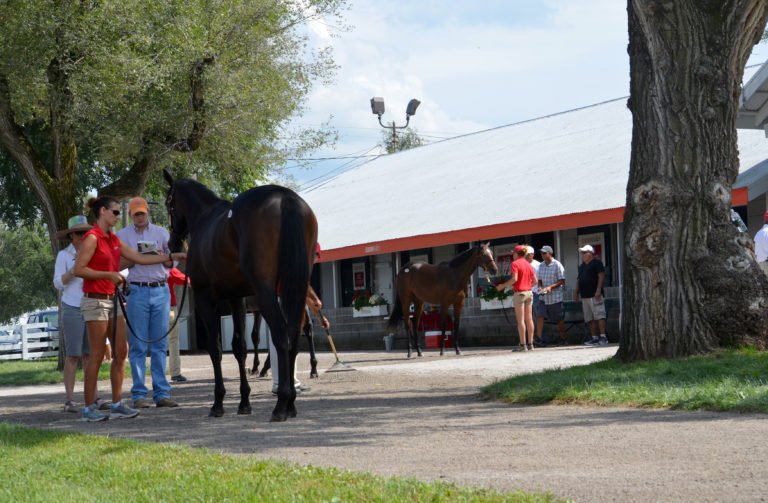 Step 3: determine payment method
There are two main sales companies in the US for broodmare purchases – Keeneland and Fasig-Tipton. American sales companies do not traditionally provide longer-term credit options in the same way Australian sales companies do.
A 15-day term credit can be applied for in advance, otherwise payment is due immediately. There is also the option of arranging finance with Inglis or Magic Millions, or through alternate sources.
Commencing in August 2021, Fasig-Tipton will become the first auction house to accept payment via cryptocurrency, through a new partnership with crypto.com.
Step 4: get forms organised
Prior to attending the broodmare sale, I will help you through the process of completing Buyer Registration and Buyers Agent Authorisation applications.
Step 5: make plans for your purchase
If you have purchased a dry mare, she will be able to be exported to Australia soon after the sale has finished.
If you have purchased an in-foal mare, she will head to a reputable agistment farm where she can go to be foaled down. Then once the foal is weaned, she can be exported to Australia.
I will assist you in contacting International horse transport company, such as IRT, to discuss and commence the process to import your mare to Australia. Quarantine and importation costs vary but are in the $25,000 – $30,0000 range.
Click to read: How does my mare purchase travel home to Australia from America?
The US market is very open to trading and therefore private sales and the US Claiming Races program provide alternate opportunities to purchase bloodstock. Boomer Bloodstock can guide you every step of the way.